---
Oha Expands Emergency Financial Assistance Program For Native Hawaiians
For immediate release. Feb. 1, 2022
(HONOLULU) – Beginning Feb. 1, 2022, the Office of Hawaiian Affairs will expand the assistance available to Native Hawaiians through its Ka Wailele Emergency Financial Assistance Program. In addition to mortgage, rental and utility support, the Ka Wailele program will now be offering relief for car repairs, funeral expenses, and out-of-pocket medical expenses. Maximum awards will also be increased from $1,500 to $2,000.
In June 2021, OHA announced that it was making $1,044,253 available to implement an emergency financial assistance program for Native Hawaiians. The Ka Wailele program is being administered by Hawaiʻi Community Lending (HCL), a nonprofit U.S. Treasury-certified community development financial institution that specializes in providing loans to local residents with a focus on Native Hawaiians, who cannot qualify at mainstream banks and credit unions. HCL and its sister company, Hawaiian Community Assets, operate four Financial Opportunity Centers on Oʻahu, Maui, Kauaʻi and Hawaiʻi Island.
HCL, as the administrator of the program, conducted community listening sessions to further identity financial needs of Native Hawaiians. One such meeting was with the Native Hawaiian and Pacific Islander Hawai'i COVID-19 Response, Recovery and Resilience team coordinated by Papa Ola Lōkahi. Anecdotal evidence confirmed that living expenses were increasing and transportation, funeral and medical expenses, in particular, were becoming out of reach for some Native Hawaiians across the state.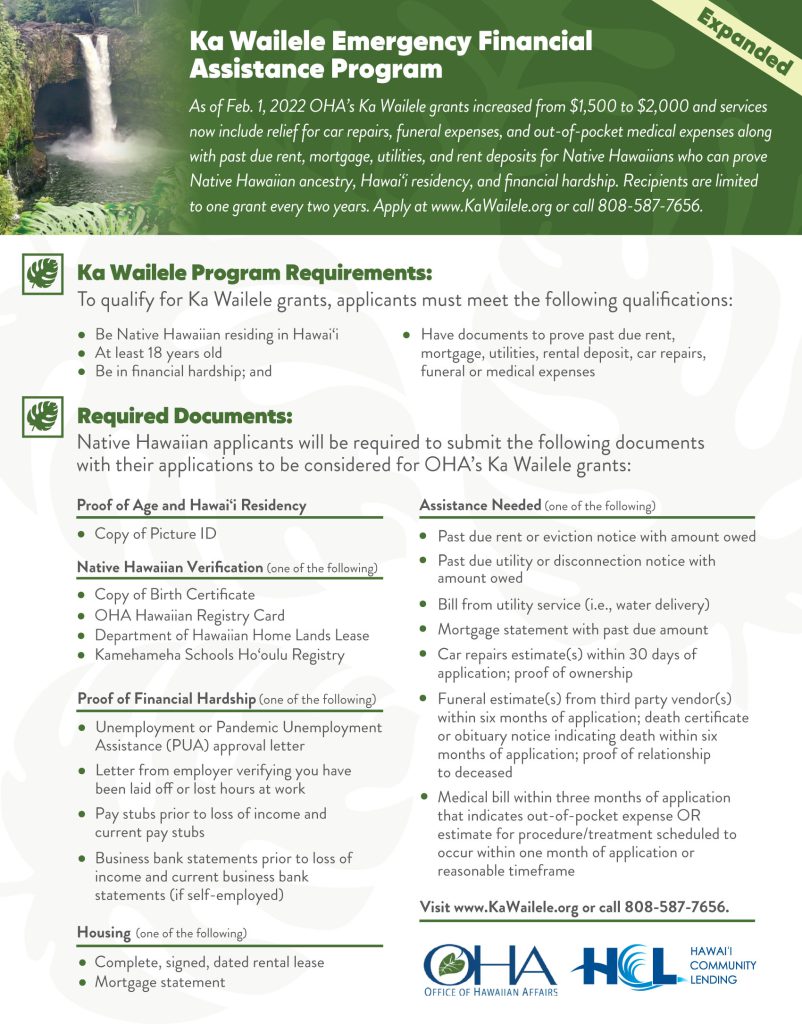 ---
---
"We confirmed with data that applicants needed assistance with transportation to travel to work and school. Unfortunately, at the same time, family deaths and medical expenses directly or indirectly related to COVID-19 were becoming increasingly apparent as a need," said HCL Executive Director Jeff Gilbreath.
To address these growing financial needs, HCL and OHA worked collaboratively to expand the dollar amount of program grants and program uses to meet the needs of the Native Hawaiian community.
Assistance with car registration costs will be ineligible and assistance limited to vehicle repairs and maintenance only. Funeral costs are limited to mortuary costs – casket, embalming, cremation, funeral service – as well as help with food and flower arrangement costs for funerals.
"The COVID-19 pandemic has severely impacted our people and it is our hope that this emergency financial assistance from OHA can help ease some of the stress that our Native Hawaiian 'ohana have experienced," said OHA CEO/Ka Pouhana Dr. Sylvia Hussey. "We also mahalo HCL as an outstanding community partner as they work tirelessly to serve our Native Hawaiian beneficiaries."
Native Hawaiians who are at least 18 years old and in financial hardship should review program requirements and apply. No income requirements pertain but Native Hawaiians are limited in receiving OHA emergency financial assistance to one grant every two years.
HCL will process applications, and payments will be made directly to landlords, mortgage lenders, utility providers, car repair shops, medical providers, or funeral homes. Approved applicants will also have access to financial counseling, additional grants or affordable loans, and career coaching through Financial Opportunity Centers run by HCL's parent corporation, Hawaiian Community Assets.
Native Hawaiians in financial hardship should apply online at www.oha.org/emergencyaid or www.kawailele.org. Persons without internet access or a computer are encouraged to call HCL at 808-587-7656 to request a paper application or complete an application over the phone.
In-person assistance will be available at Financial Opportunity Centers and remote offices statewide.
---
Ka Wailele Program Requirements
To qualify for Ka Wailele grants starting Feb. 1, applicants must meet the following qualifications:
Be Native Hawaiian residing in Hawaiʻi;
At least 18 years old;
Be in financial hardship; and
Have documents to prove past due rent, mortgage, utilities, rental deposit, car repairs, funeral or medical expenses
Required Documents
Native Hawaiian applicants will be required to submit the following documents with their applications to be considered for OHA's Ka Wailele grants:
Proof of Age and Hawaiʻi Residency
Native Hawaiian Verification (One of the following)
Copy of Birth Certificate
OHA Hawaiian Registry Card
Department of Hawaiian Home Lands Lease
Kamehameha Schools Hoʻoulu Registry
Proof of Financial Hardship (One of the following)
Unemployment or Pandemic Unemployment Assistance (PUA) approval letter
Letter from employer verifying you have been laid off or lost hours at work
Pay stubs prior to loss of income and current pay stubs
Business bank statements prior to loss of income and current income (if self-employed)
Housing (One of the following)
Complete, signed, dated rental lease
Mortgage statement
Assistance Needed (One of the following)
Past due rent – past due rent or eviction notice with amount owed
Past due utilities – past due utility or disconnection notice with amount owed OR bill from utility service (i.e., water delivery)
Past due mortgage – mortgage statement with past due amount
Car repair – estimate(s) for repairs within 30 days of application; proof of ownership
Funeral – estimate(s) from third party vendor(s) within six months of application; death certificate or obituary notice indicating death within six months of application; proof of relationship to deceased
Medical – bill within three months of application that indicates out-of-pocket expense OR estimate for procedure/treatment scheduled to occur within one month of application or reasonable timeframe
APPLICATIONS ARE NO LONGER BEING ACCEPTED. SEE BELOW FOR MORE INFORMATION.
Funding from the Office of Hawaiian Affairs is coming to an end and a new emergency assistance provider will be contracted.
Here are important dates we want you to know about:
• June 30, 2022 – New applications will no longer be accepted and the new application portal closed.
• July 1, 2022 – OHA will be collecting contact information for all interested applicants after June 30, 2022. Click here to submit your information: www.oha.org/oha-emergency-financial-assistance/
• July 15, 2022 – If you have a pending/incomplete application, after July 15th, all pending/incomplete applications will need to reapply for funding. Please click on the link above to submit your contact information or contact OHA at 808-594-1835.
• July 31, 2022 – Last day to approve and send out emergency grant funding.
Please note that funding will be disbursed on a first-come, first-serve basis.
• After July 31st – Office of Hawaiian Affairs will transfer
administration to the program to another organization and maintain communication with you on next steps to obtain emergency grant funds.
Oʻahu
200 N Vineyard Boulevard, Suite B140 Honolulu, HI 96817
808-587-7886
Maui
24 N Church Street, Suite 210 Wailuku, HI 96793
808-727-8870
Molokaʻi /Lānaʻi (Remote Site)
University of Hawaii Molokaʻi Education Center
375 Kamehameha V Highway Kaunakakai, HI 96748
808-553-4490, ext. 6
Open Mon & Wed, 8:30a to 4:30p
East Hawaiʻi
1315 Kalanianaʻole Avenue, Hilo, HI 96720
808-934-0801
West Hawaiʻi (Remote Site)
La'i'ōpua 2020, 74-5210 Keanalehu Drive, Kailua Kona, HI 9674
808-587-7656 (requires the (808) to be dialed)
Open Mon-Fri, 9a-4p
Kauaʻi
2600 Kaumualii Highway, Suite E-12, Lihue, HI 96766
808-784-3841
## pau ##
About the Office of Hawaiian Affairs:
Established by the state Constitutional Convention in 1978, OHA is a semi-autonomous state agency mandated to better the conditions of Native Hawaiians. Guided by a board of nine publicly elected trustees, OHA fulfills its mandate through advocacy, research, community engagement, land management and the funding of community programs. Learn more at www.oha.org.

Contact: Ed Kalama Ka Punawai
Communications Strategist
Office of Hawaiian Affairs
560 N Nimitz Hwy
Suite #200
808-594-1925
808-725-1958 (cell)