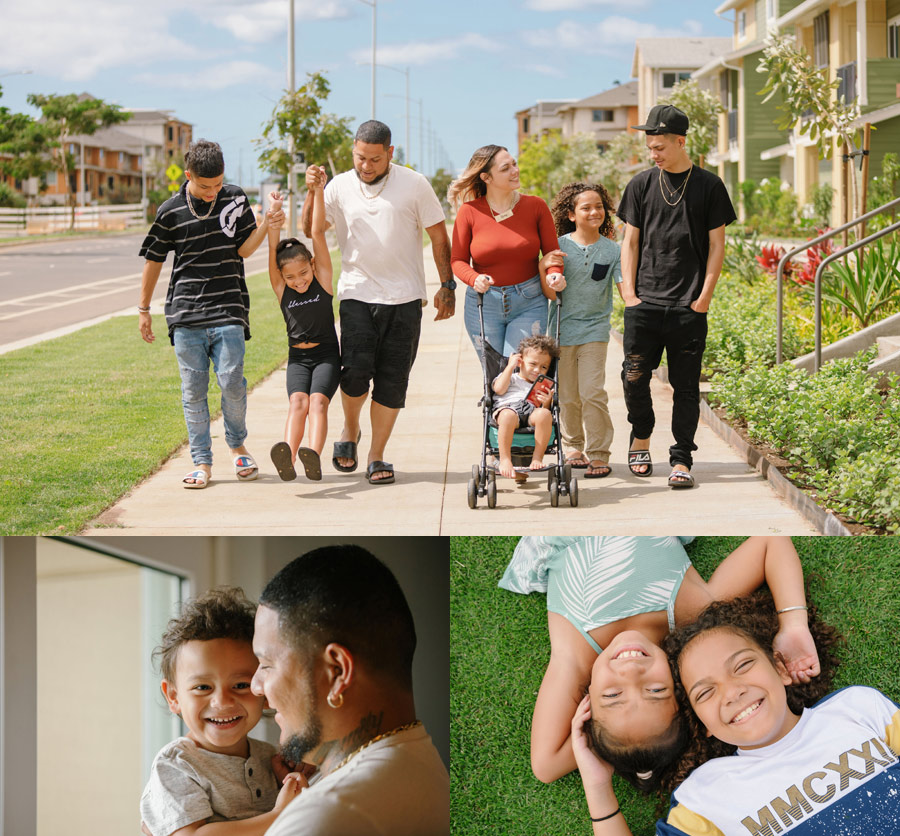 Buying a home should be a family affair, and the Mokulehua 'Ohana made sure that their new home was a family accomplishment, every step of the way.
Preston and Racheal Mokulehua of O'ahu knew it would be challenging to save enough money and go through the process of finding and purchasing their own home, but they strongly wanted a space of their own to put down roots, a place they could someday pass along to their keiki: Prenston-Kainui (15), Reign-Kanoa (13), Reignston-Keahi (their angel who would've been 11), Jahzion-Kamakana (10), Hi'ileilani (8), and Nāhoali'i (2).
Preston is a motive technician for Industrial Battery Solutions. Racheal is a clinical case manager III at U.S. Veterans Initiative, and a mentor for the Native Hawaiian Interdisciplinary Health program. With a bachelor's degree in social work with a Hawaiian language certificate under her belt, Racheal had just returned to school to get her master's degree. Their youngest child was just two weeks old at the time.
The idea of buying a home seemed like a dream, but it was a dream the family was determined to make into reality.
Together, Racheal and Preston sat down and created a five-year strategic plan with long- and short-term goals for the purchase of their home. A year later, they found a team to further and support their plan: Hawaiian Community Assets (HCA) and sister lending partner Hawaiʻi Community Lending (HCL).
The Mokulehuas enrolled in HCA's financial education and homebuyer education workshops. With the guidance of financial counselors at HCA's O'ahu Financial Opportunity Center, they worked to grow their credit, budget efficiently, save funds, sacrifice when needed, and stay mentally strong—even when exhausted from working overtime to set aside extra money. Racheal continued to work on her advanced master's degree track, which condensed three years of study into one.
It was a difficult time, and there were days when the family wanted to throw in the towel, but they persevered. At every step of the way, Racheal and Preston involved the keiki in the process. Each decision was discussed as a family, down to selecting the upgrades, doing the walk-throughs, assigning the rooms, and even picking out the furnishings and decorations for the new home. The children prayed for the house daily in their prayers.
"It was very important and intentional for us to have our keiki be a part of the process," Racheal says. "We wanted them to feel that this big milestone was an accomplishment for all of us, while also teaching them that they are capable of accomplishing anything they set their intentions towards."
With teamwork and collaborative planning, Racheal was able to earn her master's in 2020. After just three years, the family reached their goal and made a down payment on a house in 'Ewa Beach.
Was it worth all the stress? Absolutely, says Racheal. Home ownership has brought her family security and a sense of pride and fulfillment. "Our children know that this is their home," she says. "The biggest takeaway of homeownership for us is realizing just how strong our family bond is. We walked hand-in-hand every step of the way. Homeownership has brought a feeling of being blessed, and we are just basking in all of God's love and favor. To Him goes all the glory."
The help of HCA was invaluable on the journey, Racheal says. "We were always met with understanding, guidance and support. We found 'ohana in the wonderful individuals who assisted us through the process like Jeff Gilbreath, Shannon Feliciano, Sheryl Chun and Rose Transfiguracion. We couldn't have chosen a better team, and we are so grateful for the immense care and thoughtful consideration they employed to walk us to the finish line of home ownership."
Racheal's advice for others who would like to own a home:
Do your research. Before starting homeownership, take a home loan class, talk to others who own a home, utilize internet tools that can estimate what loans and mortgages will look like for your income and purchase price. It's helpful to walk into the process with knowledge of how to make informed decisions.
Find a team you're comfortable with. If you are feeling pressured to make decisions and you don't feel supported, say so! You are the driver of this process, so don't be afraid to take the wheel. Be confident in your decisions, but always be realistic with your expectations.
Don't give up. There will be times when you feel the process is not going the way you want or had planned for, but be patient and trust the process. Your team has the same ultimate goal as you, so you are all working on the same plain toward the same goal.