Aloha from your housing team!​
As we celebrate Spring, we celebrate growth and renewal, hope and strength.
Photo: Top Row (L to R) Bree Maumausolo, Rosemarie Transfiguracion, Vicki-Ann Paresa, Cynthia Hobson. Middle Row: Lara Cornette, Hannah Noble, Hoku Preston, Erica Hanawahine, Jess Delima. First Row: Kahau Mahoe-Thoene, Jeff Gilbreath, Chelsie Evans, Cass Ohelo.
Here at Hawaiian Community Assets and Hawai'i Community Lending, we are thrilled to celebrate over 20 years of helping residents find—and keep—their homes. We believe that affordable housing is a human right. The stable foundation a home provides is critical to the well-being of our island community.
That's why we offer free services with our expert financial counselors at Financial Opportunity Centers in all four counties. These trained professionals are committed to guiding you through the necessary steps to strengthen your financial position and fulfill your dreams of home ownership.
About Chelsie Evans
Executive Director, HCA
Chelsie Evans is the former Executive Director of Maui Hui Malama, an organization that focuses on eliminating barriers for at-risk youth. She also founded and headed Wrapped in Wings, which supports critically ill children and their families.
Born and raised on Maui with a master's degree in human services and bachelor's in psychology, Chelsie has a deep empathy for people and does her utmost to ensure they reach their goals.
About Jeff Gilbreath
Executive Director, HCL
Jeff Gilbreath joined Hawaiian Community Assets in 2008 with a background in youth mentoring, family services and affordable housing. Jeff has over 20 years of experience in nonprofit program development and management, and deep knowledge of federal and state policy promoting sustainable communities. Under his leadership, HCL has deployed more than $26.5 million in grant and loan capital to support affordable housing for more than 3,000 Native Hawaiian and local families.
We know the process of finding a home can be overwhelming. That's why we have created Financial Opportunity Centers (FOCs) where we offer free services designed to help you access available funds and get you into a home. Our FOCs are located in Līhue, Kaua'i; Hilo, Hawai'i; Honolulu, O'ahu; and Wailuku, Maui.
These centers are "one-stop-shops." They offer: financial counseling; income supports; career coaching; and referrals to grants, loans and affordable mortgage financing—all to increase income and assets for kama'āina. Each center is staffed with caring financial counselors who provide free tools and training to obtain rentals, purchase homes, prevent foreclosures and eviction and gain financial stability.
Did You Know? Hawai'i has the nation's first-and-only statewide network of FOCs. Managed by the Local Initiative Support Corporation, the FOC is a national, evidence-based model for increasing income and assets of underserved households. Hawai'i has four FOCs!
Celebrating homeowner success
Over the years, we have seen hundreds of clients turn their hard work into "success stories." Here are two examples for real-life inspiration.
Making a plan and sticking to it—as a family
Buying a home should be a family affair, and the Mokulehua 'Ohana made sure that their new home was a family accomplishment, every step of the way. Preston and Racheal Mokulehua of O'ahu knew it would be challenging to save enough money and go through the process of finding and purchasing their own home, but they strongly wanted a space of their own to put down roots, a place they could someday pass along to their keiki.
The idea of buying a home seemed like a dream, but it was a dream the family was determined to make into reality.
Together, Racheal and Preston sat down and created a five-year strategic plan with long- and short-term goals for the purchase of their home. A year later, they found a team to further and support their plan: Hawaiian Community Assets (HCA) and sister lending partner Hawaiʻi Community Lending (HCL).
'Relief just when we needed it the most'
For Elizabeth M*. of 'Ewa Beach, the Ka Wailele Program was a blessing that came at just the right time. Elizabeth, her husband and two children faced challenges like many families during covid times.
Originally from Waimanalo, Elizabeth and her family moved to 'Ewa Beach in 2013. In 2020, Elizabeth faced furloughs in her job as program supervisor for a nonprofit organization. Figuring out how to manage on just one income was challenging, with her husband working overtime when possible, and rearranging spending and expenses as best as possible.
Elizabeth began looking for programs that could help, but found that her family's income was at a tricky level: just enough to pay the bills, but with no buffer and nothing to spare, leaving them unqualified for assistance. However, they managed to keep the household together, especially once Elizabeth was rehired due to pandemic relief for businesses. *Recipient of these funds would like to remain anonymous.
Active grants: Partnering for strength​
Hawai'i Community Lending (HCL) and Hawaiian Community Assets (HCA) consistently partner with other organizations to maximize funds for renters, homebuyers and homeowners in need of assistance. Current grants available to eligible clients include the Ka Wailele emergency grant, the Windward O'ahu Homeowner Assistance Fund, and the Homeowner Assistance Fund.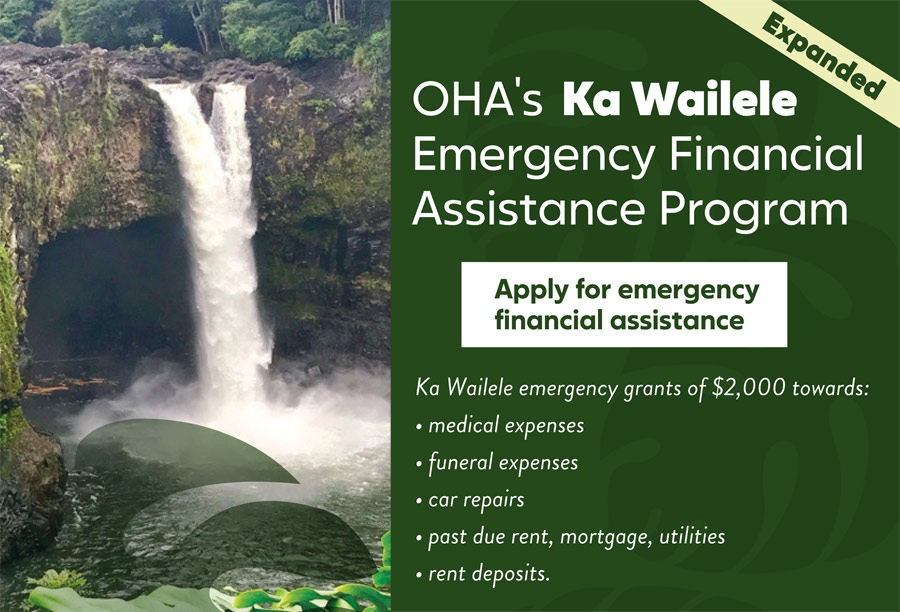 OHA's Ka Wailele Program – "Relief  when families need it the most'
Administered by HCL, the Office of Hawaiian Affairs' Ka Wailele Emergency Financial Assistance Program offers grants up to $2,000 for Native Hawaiians in financial hardship for rent, utility, mortgage payments, medical expenses, funeral expenses, car repairs and rental deposits. Financial hardships must have occurred within three months of application, except for funerals which require the hardship within the last six months. Funding is available statewide.
Windward O'ahu Homeowner Assistance Fund
The recently expanded Windward O'ahu Homeowner Assistance Fund offers grants of up to $1,000 per person (80% AMI and below) to assist with back and prospective utilities, car repair/registration fees, cell phone service, and personal loans used to pay off utilities. The grant is paired with a free session of financial counseling, done either virtually or in person. Funding is available while it lasts to Windward O'ahu residents through the end of 2022.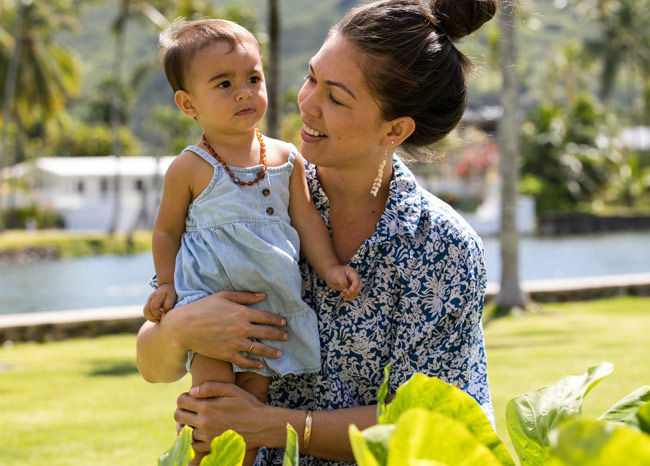 Homeowner Assistance Fund
The Homeowner Assistance Fund offers grants of up to $30,000 to assist homeowners on Hawai'i Island and Kaua'i who are in financial hardship. Grants can be used not only to reduce monthly payments or pay past-due mortgages (for Hawai'i Island and Kaua'i homeowners who have loans with participating mortgage servicers only), but also to pay past-due property taxes and past-due HOA fees. Funding is available through September 2025 or until funds are fully expended, whichever happens first.
For information about any of these grants, please visit HCA online at www.hawaiiancommunity.net or call HCA toll-free (866) 400-1116.
Mana Wāhine ~ Chelsie Evans, Maui [ Article in Ka Wai Ola ]
Chelsie Evans has been named the new executive director of Hawaiian Community Assets (HCA), Hawaiʻi's largest Department of Housing and Urban Development-certified housing counseling agency. HCA serves over 1,500 local residents annually providing free financial counseling, income support, and career coaching. See article in Ka Wai Ola here.
How we're making an impact
Mahalo for your continued support
We fulfill our mission through donations, grants and community fundraising events. We are constantly working hard to assist those who need help, and donations of any size can make a difference in improving the lives of others. Mahalo for your donation via credit card or PayPal.
Every donation helps a family through the Kahua Waiwai financial education program. ​